Welcome
Welcome to the Mahou Shoujo Site Wiki!
This wiki is about the Mahou Shoujo Site series that anyone can edit!
9,022 edits made and 356 articles created since January 10th, 2016.
This wiki contains unmarked spoilers. Read at your own risk!
About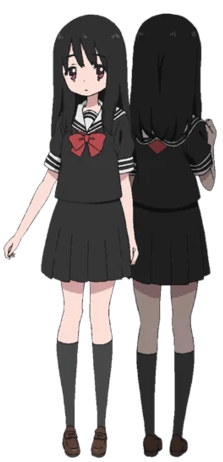 Aya Asagiri is a middle school girl who has problems both at school with bullying, and at home from physical abuse by her brother.
After Aya had experienced something very misfortunate, a website pops up on her computer featuring a creepy-looking person. This person appears to take pity on her, and announces that she has granted Asagiri magical powers.
Later at school, she is cornered by bullies, and with nothing to lose fires a gun that had mysteriously appeared in her locker earlier that day at them. The shot causes the bullies to disappear, but to her horror she finds out that they somehow had been hit by a train nearby. Asagiri feels as though she had killed them somehow, and is confused to find herself with longer red hair with eyes that flow with blood.
She later finds that she is not alone, when a classmate reveals that she is also a magical girl. Asagiri learns about magical girls, and the power she has acquired, from her new friend who has offered to help her. The two girls, though, can't explain why there is something that looks like a countdown clock on the website, and fear it might be something bad.
Characters
Affiliates
Want to affiliate with us?
If you would like to become an affiliated site, please contact an administrator.
Collaborate with this wiki
The optimal visual and social experience on this wiki is available with a FREE personal Wikia account.
There are other editors who can improve what you contribute - don't be afraid to jump in and start it!
The wiki policy and community portal describing the community's projects are a must-read.
If you have trouble getting started and are new to collaborative editing, check the wiki tutorial.
To contribute a Mahou Shoujo Site article, simply enter the article title in the box below:
External Links
Poll
How would you rate the Mahou Shoujo Site anime?
Twitter